Beveling Auxiliary Base(15~45 degree)
Model: GPW-A01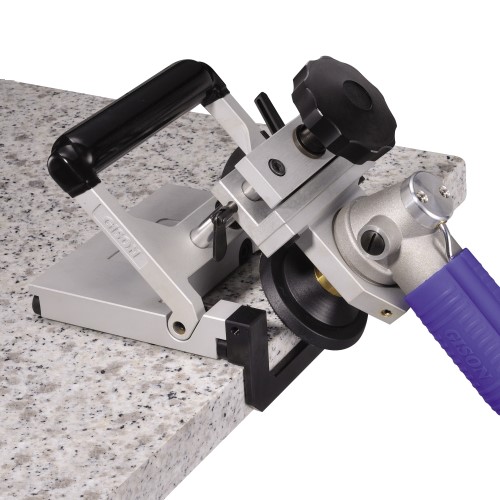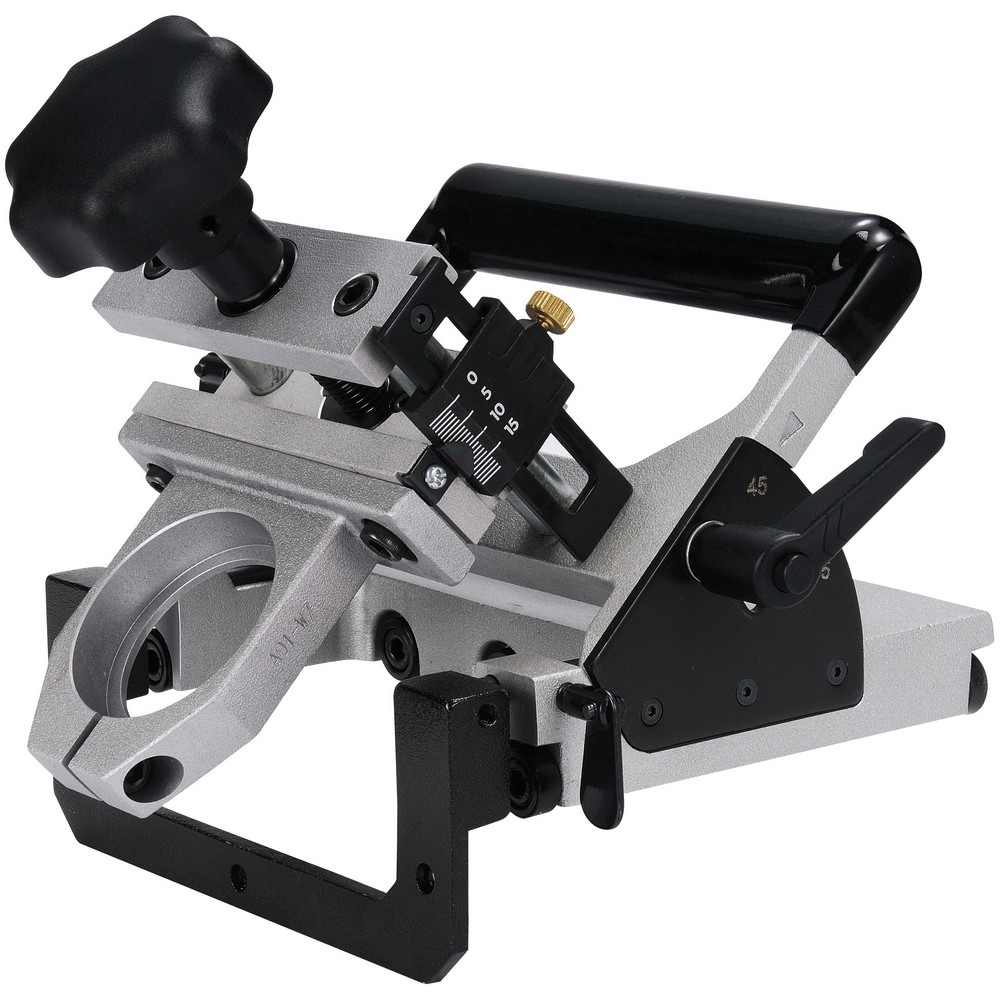 The Beveling Auxiliary Base GPW-A01, available from GISON, has the ability to make some GISON's GPW-7,218,220 Wet Air Polisher into a precision straight and beveled edge polishing tool.
Wet Air Chamfering Machine, Wet Air Beveling Machine, Chamfering Auxiliary Base,
Wet Air Beveller for Stone,Granite,Marble / Wet Air Beveling for Stone,Granite,Marble,
Wet Air Chamfer for Stone,Granite,Marble / Wet Air Chamfering for Stone,Granite,Marble
Specification
Beveling Angle : 15 ~ 45 degree
Beveling Depth : 0.1 ~ 10 mm
Max. Pad Size : 4" (100 mm)
Length : 200 mm
Width : 185 mm
Height : 170 mm
Weight : 1.62 kgs
Clamp Spec. (Diameter) :
for GPW-7/7L : 52.5 mm
for GPW-218/218L,220/220L : 54.5 mm
Packing (1 Carton): 8pcs/3.5cuft/G:17.7kgs
* Without Wet Air Sander / Polisher *
Features
Simple Operation
Perfect Finishing
Time Saving
Adjust the desirable bevel angle from 15 ~45 degree.
Adjust the beveling depth from 0.1~10 mm
Mocrometric scale to calibrate te chamfering depth
8 rolling wheels to facilitate moving.
Designed to fit various GISON's sanders / polishers /grinders, simply by changing the clamp.
Quick change the abrasive / polishing pad while working.
Applications
GPW-A01 Beveling Auxiliary Base is used together with GISON's wet air sanders / polishers to accurately create beveled edges for stones between 15~45 degrees. This new product will remove the guess work and inconsistency normally exist when fabricators polish beveled stone edges with diamond polishing pads. It accepts maximum 4" back holder and 4" diamond polishing pads. The product is also called Wet Air Beveling Machine, Wet Air Beceller, Wet Air Chamfering Machine or Wet Air Chamfer.
Whether edges are being prepared for a seamless countertop installation or to give a "fancy" Hollywood Bevel as an edge treatment, the Beveling Auxiliary Base will provide a secured polishing angle (between 15 to 45 degrees).
The installation and dismantling is easy so the wet air polisher can be used for many other applications.
Also with 90-degree adapting clamp, it can be used to polish straight edges easily just as GPW-A02B auxiliary base does. Instead of buying both A01 and A02B auxiliary base, now you only need to buy the 90-degree adapting clamp to polish bevel and straight edge.
Caution: Although the rollers for the base are made of nylon, it is possible that they may cause minor scratches on the surface of granite. To prevent that from occurring, we recommend that the polished surface be covered with masking tape before using this product.
Movies
Air Tools Gallerys

Related Air Tools Catalogs

Files Download

---

Related Products

---

Related Catalogues

---

product range comprises linear sliding track, wet air hole drilling / cutting / forming milling machine, portable air hole drilling machine, wet air grinder, wet air sander, wet air polisher, wet air stone router, wet air edge profiling machine, wet air cutting saw, wet air fluting tools, beveling auxiliary base, 90 degree edge polishing auxiliary base, air hammer, mitre clamp, seam setter ... etc.

---

---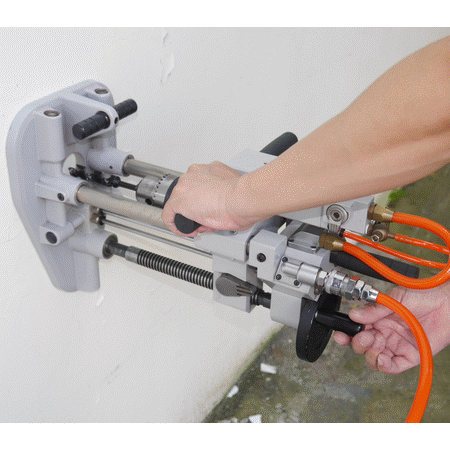 Portable Air Drilling Machine (include Vacuum Suction Fixing Base)
The novel Vacuum Suction Fixing Base of GPD-231 can quickly suction on any flat rough surface without any other auxiliary tools and drilling it. The GPD-231 Air Drilling Machine can replace the Magnetic Drilling Machine, the Magnetic Drilling Machine can be only used on iron material.
More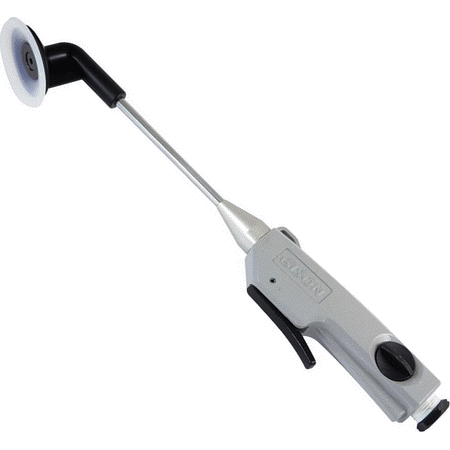 Handy Air Vacuum Suction Lifter & Air Blow Gun
The novel vacuum suction of GP-SA series can pick up & place quickly for any wet,oil and rough flat surface object. You can use this Suction Lifter to avoid labor work injuries, increased job safety.
More
47 Years Beveling Auxiliary Base(15~45 degree) Manufacturer - GISON
Located in Taiwan, GISON MACHINERY CO., LTD., since 1973, is a Beveling Auxiliary Base(15~45 degree) manufacturer. Main product including, handheld air tools for fastening, drilling, cutting, painting, farming, gardening, automotive/vehicle repair and so forth.
At GISON, there are about 500 gauges and over 1,000 molds for any power tools' machining and manufacturing. The manufacturing process is ISO-9001:2015 certified, CE approved products and their air tools / pneumatic tools are sold worldwide to 50 countries.
GISON has been offering customers high-quality air tools/pneumatic tools, both with advanced technology and 48 years of experience, GISON ensures each customer's demands are met.
View our quality products
Air Tools
,
Pneumatic Tools
,
Air Wrench
,
Air Grinder
,
Air Sander
,
Air Polisher
,
Wet Air Stone Tools
,
Air Hammer
,
Air Drill
,
Air Screwdriver
,
Vacuum Suction Tools
and feel free to
Contact Us
.
Press Release
2020 Wet Air Tools for Stone,Marble,Granite Industry Catalog

product range comprises linear sliding track, wet air hole drilling / cutting / forming milling machine, portable air hole drilling machine, wet air grinder, wet air sander, wet air polisher,...

Read More

2018-2019 GISON New Air Tools Catalog

product range comprises portable wet air hole cutter for stone, handy air vacuum suction lifter, portable air drilling machine, air wrench, air grinder, air sander, air polisher, wet air tools...

Read More